Discover more from Quest by PEMF-devices.com
Molecular hydrogen, magnetic field therapy, PEMF, light, cold lasers and more!
Over 6,000 subscribers
Labor Day Specials; The Root of Creation; New Book with Hydrogen Chapter & More!
Happy Labor Day everyone!
May you find the courage to stand up for what you believe in, and never let anyone tell you that you can't do something you like or are well capable of.
5 years ago I quit my day job after moonlighting for over 10 years in corporate. I have to say, that I enjoyed my corporate existence, much so because the organizations I chose to work with, had wonderful processes and knowledge, it also gave me an opportunity to socialize and interact with people from all walks of life. I have fond memories of work friends and miss them dearly! I have to thank my Dad for the corporate grind, as he was a guiding force who motivated me to never give up and learn from my experiences. He made me realize the value of learning in an environment that is brutal in the sense that you have to work your ass off, but if you keep your ears and eyes open you will gain knowledge, become more dependable and find success in every way imaginable.
My dream has always been to do creative work and something that can benefit the planet. While the corporate life was invigorating and educating, it was not rewarding on the planet front, and I also had to limit my creativity. I'm lucky that I found the emerging field of wellness and fitness technologies to apply my talents on the side. Doing is believing, once I saw what PEMF was doing to my mental and physical productivity, there was no turning back. And then came Hydrogen..
Hydrogen is at the Root of Creation
We introduced a great new technology to our wellness stack called Molecular Hydrogen since a while now. Prior to that, it took me almost two years to gather the knowledge and experience to bring it to you by working with doctors who used it extensively with patients and assessing manufacturers and technological features of the machines. And now after seeing the results with clients, it's simply the best technology we know of today!
Supposedly 13.8 Billion Years Ago, the Universe was born, filling up physical space with hydrogen. Hydrogen is the most abundant element in the universe. All the hydrogen in the universe has its origin in the first few moments after the Big Bang. It is the third most abundant element on the Earth's surface after oxygen and silicon. Hydrogen and oxygen become water. Thus, hydrogen is the most abundant atom in our bodies.
Everyone knows we need oxygen to live, but oxygen's counterpart, hydrogen, is the real fuel that burns when there is plenty of oxygen around. The air we breathe also contains a small amount of hydrogen, which is immediately absorbed into cells and tissues when it enters the respiratory tract. However, the amount found in the atmosphere is less than 1%.
We also derive hydrogen from food, however that process is costly to the body as insulin is required, so to utilize hydrogen's true power, it is inhaled in its purest form. Food quality is also an issue as millions of individuals are not getting enough hydrogen (and are suffering for it) because of mineral deficient soil, pesticides, chemical fertilizers, over-processing of foods, the addition of chemical preservatives, and drinking over-chlorinated and over-fluoridated water.
When certain chemicals in the body lose an electron, they become positively charged (free radicals or oxidants). These chemicals roam freely throughout the body stealing electrons from other cells. Free radicals damage cellular DNA. Aging is the damage to millions of the body's cells through oxidation. This oxidation is due to the lack of available hydrogen anions to stop free radical damage.
Want to know how a brain disease progresses? Reduced H2!
Molecular hydrogen has anti-oxidative and anti-inflammatory properties and neuroprotective effects.
When inhaling hydrogen, our bodies receive trillions of hydrogen molecules in seconds. H2 molecules pair up with toxic hydroxyl radicals to neutralize them. Hydrogen therapy is safe, and there is no upper limit of use. There is no toxicity to H2 because the by-product of the free-radical neutralizing reaction is water. Each molecule of H2 will neutralize two hydroxyl radicals into two molecules of H2O, hydrating your cells in the process.
H2 is key to ATP production within the mitochondria. It is the mother of all other elements. Hydrogen, along with oxygen, has been intrinsically involved with the evolution of life. The extremes of oxygen and hydrogen provide a balance between oxidation and reduction, vital to life.
Being the lightest molecule, H2 is easily able to permeate every cell and is quickly absorbed on inhaling and external application as well. Hundreds of studies in the years since have been published showing hydrogen as a safe and effective rehabilitation technology for over 150 disease models.
We welcome your questions and enjoy working with practitioners including physiotherapists, chiropractors, acupuncturists, functional medicine practitioners and natural medicine doctors among many others. 
Everyone is curious about whether we will be having a sale for Labor Day. YES! USD 100 off (or equivalent in other currencies) on The H2 + O2 Ultra series.
---
Labor Day Special - H2 + O2 Ultra Series
Presenting the ALL NEW - Hi-Tech H2 + O2 ULTRA Series. 2 Models - ULTRA 1500 and ULTRA 900.
The two models Ultra 900 and Ultra 1500 provide up to 600 milliliters per minute (ml/min) and 1000 ml/min of 99.99% pure hydrogen gas respectively. The machines additionally provide 300 ml/min (Ultra 900) and 500 ml/min (Ultra 1500) of oxygen for a combined output of 900 ml/min and 1500 ml/min of hydrogen and oxygen mixed. Worldwide free shipping.
New and improved design and usability over our earlier Pro machines. These hydrogen and oxyhydrogen inhalation machines have ISO, water quality and CE certifications. They are the best choice for any home or clinic as they offer clinical-level hydrogen and oxyhydrogen dosages with fine control and advanced technology built to last long and require minimum maintenance.
---
PEMF Beyond Whole-body PEMF Mat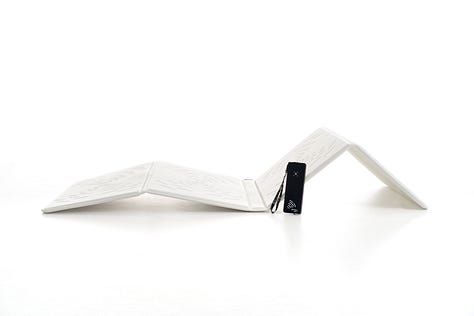 The PEMF Beyond Full Body mat features a high quality foldable PEMF mat with a wireless controller which has a built in rechargeable battery and a downloadable controller app for iOS and Android. The whole-body PEMF device comes with 100+ preset programs and unlimited custom programs. The frequency range is from 1 to 99 Hz with many adjustable settings. It comes with adjustable up to 1,000+ µT or 10 Gauss Max Intensity.
Experience a much more effective PEMF therapy experience with it's innovative rectangular, sine and chainsaw waveforms, reverse polarity, adjustable dynamic field strength and frequency ranges that surpass anything else out there in this price range. All in all, if you're looking for a whole-body PEMF machine for your clinic or home, the OMI Full body PEMF beyond Mat is a great choice!
---
---
Berkowsky's Synthesis Materia Medica of the Twelve Cell Salts
I recently worked with Dr. Berkowsky on this new book to provide technical editing and publishing support. The book provides new therapeutic approaches to all practitioners interested in homeopathy, essential oils and acupuncture. There's a very interesting chapter on molecular hydrogen in this book.
Berkowsky's Synthesis Materia Medica of the Twelve Cell Salts is a textbook to learn the Cell Salts / Corresponding Essential Oils Method and the Acupoint Application of Associated Essential Oils or CSCO Blend developed by Dr. Bruce Berkowsky. Leading rubrics from his Spiritual PhytoEssencing Repertory of Essential Oils have also been provided to help you identify relevant essential oils that would act synergistically with the use of specific cell salts. That's not all, to help the readers understand and apply the book, Dr. Berkowsky has hosted a free video on how to use the book on his website.
The topics with respect to H2 include - Molecular Hydrogen Therapy and synergist Cell Salts Synergy for the Mitochondria, Brain, Respiratory System and Pain. and an important insight from the Homeopathic Remedy Picture of Hydrogen (Hydrog.)
I hope you find this work this as exciting as I do! On this note, I also request those who have purchased my PEMF book on Amazon to kindly write a review, your support matters a lot to independent candidates such as yours truly!
As always, please feel free to write to us if you have any questions. We look forward to serving you well. Affiliate and distributor inquiries are welcome.
With gratitude,
Sid
Author of the PEMF Book, Founder & Product Developer at PEMF-devices.com
---
PEMF-devices.com International Shop
Since 2012, PEMF-devices.com has been researching and developing wellness technologies to offer the very best in terms of effectiveness as well as customer support, so that our families and readers can have at least some of the best tools to support their mental and physical well-being. Our products are shipped worldwide including United States, Canada, Europe, Australia and 30+ countries.